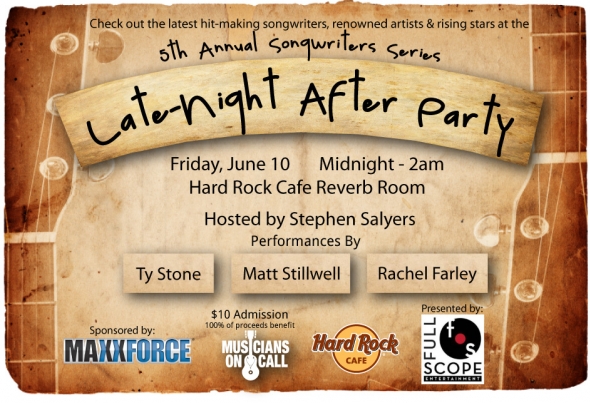 Full Scope Entertainment presents The Hard Rock Café After Party following the 5th Annual Songwriters in the Round benefitting Musicians on Call. 
Musicians on Call, a non-profit organization with branches across the country, provides volunteer musicians to perform live music for patients in healthcare facilities around the country.  Studies have shown that music can positively affect people with various ailments, such as Alzheimer's and Parkinson's.  Musicians On Call provides "music therapy" by bringing the concerts to the patients.  All proceeds of the After Party will benefit Musicians on Call. 
The evening's line-up will include country music artists Ty Stone, Matt Stillwell and Rachel Farley.  
Top Dog/Warner/Atlantic recording artist Ty Stone, a Detroit native, was recently part of Kid Rock's Born Free Tour with Jamey Johnson and is currently working his single "American Style" at country radio.
Matt Stillwell is gearing up for his 4th Annual Stillwell Shinefest this August and is finishing up a nationwide tour with Average Joe's Entertainment label mate Corey Smith. Currently in the studio writing and recording, Matt is hoping to top his #25 billboard album, Shine Deluxe.
Average Joe's Entertainment recording artist, Rachel Farley, brings her authentic Georgia style to the stage.  Influenced by all types of music, Rachel Farley's country flair is unique, yet loaded with rocker attitude. 
Line-up:
11:50PM Ty Stone,
12:45AM Matt Stillwell,
1:30AM Rachel Farley
For tickets: http://ticketalternative.com/Events/14290.aspx
For more information about this event, these artists, and Musicians on Call, please visit:
Hard Rock Café at www.hardrockcafe.com/nashville
Ty Stone at www.tystonemusic.com
Matt Stillwell at www.mattstillwell.net
Rachel Farley at www.myspace.com/rachelfarleymusic
Musicians On Call at www.musiciansoncall.org