Hey everyone!
Ty Stone here, checking in from Nashville, TN. I'm enjoying a little time off as I prepare to hit the road in March with Uncle Kracker and Sonia Leigh on the Hometown Tour, hitting over 40 dates all across America. Hope to see you all at the shows!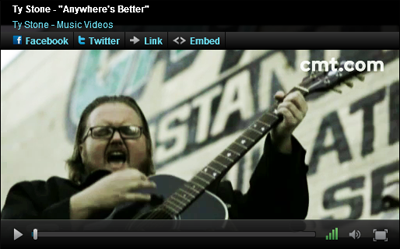 In the meantime, we've made a really cool video for my new single, "Anywhere's Better." The video stars myself, as well as CMT's Sweet Home Alabama vixen, Ashley Ann Vickers, and a few other familiar faces. ;) Please take a second and check out CMT.com here to catch the video, or just tune into CMT Pure and wait for me to get sandwiched between Miranda Lambert and Sara Evans... hey that doesn't sound half bad!! ;)
Thank you guys for all of the continued support!
Can't wait to see ya on the road!!
-Ty Stone